Our Services
LOW-COST, COMPREHENSIVE HAZARDOUS DENTAL WASTE MANAGEMENT
A service for Southern California dental practices
Patterson Dental provides hazardous dental waste management service for southern California offices from Paso Robles to San Diego, and pride ourselves on the secure handling of all hazardous waste for the dental practitioner. We've leveraged our more than 22 years of experience – and work closely with the most reputable OSHA compliance leaders in the area – to help dental practices comply with California state law and OSHA regulations.
One hauler, one visit for hazardous waste pickup
Regularly scheduled collections and on-call services designed to fit your individual practice's requirements
Compliance with all state and OSHA regulations:

Simple and easy-to-read waste-tracking documents to track waste streams from office to disposal at a recycling center
State-approved container and labeling systems designed to meet the requirements of today's dental office
State-licensed transportation by uniformed personnel in specially designed hazardous waste vehicles

Comprehensive Hazardous Waste Management:

Sharps/redbags
X-ray fixer and developer
Vapo-sterile solution
Expired medications (non-controlled)
Cold sterilizing solutions
Lead X-ray film backing
WE TAKE THE HEADACHES OUT OF COMPLIANCE:
We take the headaches out of hazardous waste disposal and compliance for our dental clients. No binding contracts as with other providers. We work closely with your staff to simplify the process of compliance. Satisfaction guaranteed!
PATTERSON ADVANTAGE MEMBER DISCOUNT
Patterson Advantage® members earn an additional 15% discount on pickup services.* Ask your Patterson representative for details.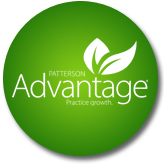 Visit PattersonDental.com to learn more about the Patterson Advantage program.
*Discount does not include sharps or waste container fees.